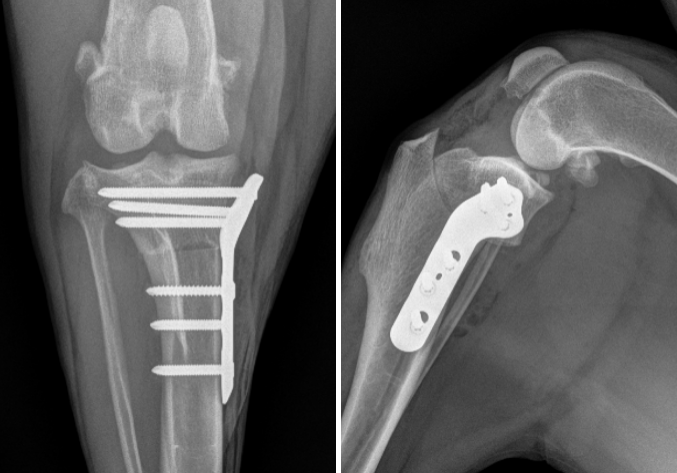 We are excited to offer TPLO and fracture repair surgeries in North Idaho.  We strive to provide excellent care at a reasonable price.  We hope to help individuals who want to provide their pets with excellent surgical care when referral to WSU's VTH or Spokane Veterinary Surgical Specialist is not an option. 
We offer these services to current clients and non-clients with a referral from your current veterinarian.
Scheduling An Appointment
In order to provide an optimal treatment plan for your pet, we do require a consultation with our orthopedic team prior to scheduling surgery. Our consultation process includes sedated radiographs to allow for accurate orthopedic measurements and to assist the surgical team in preparation and surgical planning for your pet.  One or both of our surgical doctors will discuss the best surgical options and post-op recovery with you at this time.
For non-clients who are seeking orthopedic services: please consult with your veterinarian. We will be happy to schedule a consultation only once we have received a referral directly from your veterinarian's office.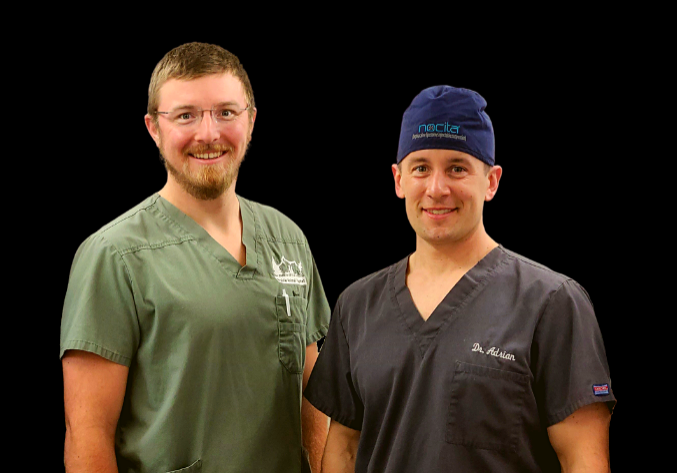 Joe Adrian, DVM (Owner of Driftless Surgical, LLC)
Dr. Adrian graduated from the University of Wisconsin School of Veterinary Medicine in 2009. This is were he first realized his passion for orthopedic surgery. After graduating Dr. Adrian worked for a mixed practice for over 10 years with much focus in the surgery room. In 2018 he accepted a surgical position at Big Sky Animal Medical Center to pursue his passion of orthopedics. Dr. Adrian is now thrilled to be able to offer all he learned to help pets and pet parents find surgical options in the Driftless Region he calls home.  He has completed hundreds of orthopedic surgeries, primarily consisting of TPLOs and fracture repairs, with high success. His practice is strictly limited to surgery, but outside of the surgery room, Dr. Adrian can be found enjoying the outdoors. He resides in Northeast Iowa area with his wife and their family of pets. 
Andrew Nicholson, DVM (Owner of Prairie Animal Hospital)
Dr. Nicholson is proudly both a Vandal and a Coug! He joined Prairie Animal Hospital shortly after his graduation in 2013 and transitioned to an ownership role in 2016. Since that time, he has invested in his passion of orthopedics and has performed hundreds of orthopedic procedures. In the past year, Dr. Nicholson has provided over 100 TPLO surgeries for his patients with positive and successful outcomes. He is excited to help more pets and clients. Dr. Nicholson not only appreciates orthopedics and practice management, he also enjoys his home life- gardening, wood working, and spending time with loved ones (especially his wife- Abby, and their children- Andy, Ace, Emmy, and Abraham).
Tian Sanders, Technician (Prairie Animal Hospital)  
Emma Thomson, Technician (Prairie Animal Hospital)  
Chelsie Roberge, CVPM (Prairie Animal Hospital)  
Chelsie is a certified practice manager and also a University of Idaho graduate.  She aids in all areas of the hospital, including communications and the referral process. Should questions arise, she will be a great secondary resource to assist you.  
Schedule Your Consultation
Give us a call, send a text message or email us to get in touch!